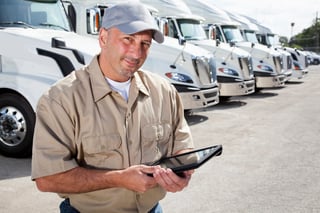 According to the Federal Motor Carrier Safety Administration (FMCSA) commercial motor carriers currently using paper logs will be required to use ELDs by December 18, 2017. Motor carriers currently using automated on-board records, or AOBRs, have an additional two years to meet the ELD mandate. Between now and then, motor carriers have a lot to plan for, such as getting familiar with the mandate and managing the operational changes that will come with switching from paper to electronic logs.
When beginning the search for the right ELD, cost will certainly be a factor, but choosing the right manufacturer is critical to success. Before signing any contracts, ensure the manufacturer will assist with implementation, training, and post-production support. Furthermore, ask for a written statement confirming the ELD meets regulatory requirements, including logbook exemptions.
Here are some additional issues to consider when evaluating various ELDs:
Since ELDs communicate over cellular networks, find out what types of geographic coverage the system has. Is it limited to a single provider or will it transition from one provider to another when the first coverage wanes? Likewise, ask if roaming charges apply if out of network.
Next is durability. Dust, moisture, temperature extremes, and vibration can all contribute to failure. If the device loses its GPS signal or connection to the tractor's ECM, who will be notified? Check if there is a backup system in case power is lost.
Usability is another issue to consider. Consider the age of your driver force. Is the device's display easy enough to read and navigate? What will the device do when the driver's available hours are running low or he/she enters a new time zone? Can e-logs be monitored remotely? And if a data entry error is made, ensure that someone (other than the driver) can make corrections.
Other issues to consider are the availability of customer support and their knowledge of the product's functionality. Likewise, find out if fleet-wide messages can be sent to and from the vehicle. If using fleet management and automated dispatching systems, ask if the ELD is compatible.
This is not an all-inclusive list and motor carriers are encouraged to do their research in advance. Before committing to any written contracts, consider talking to other motor carriers and state trucking associations for advice and consult legal counsel.
For more information about the ELD mandate, click here go to the FMCSA website.
Reprinted with permission from Great West Casualty Company.
---
Want more information? Click here to request a quote online!