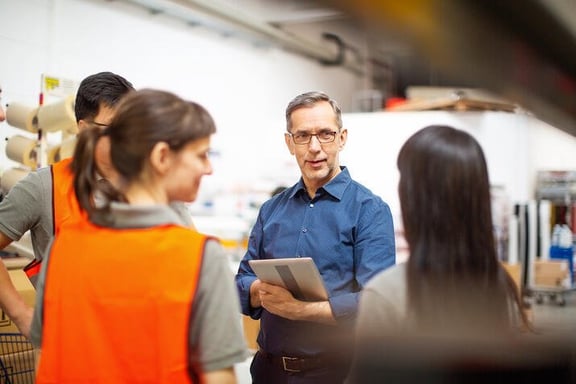 Hitting stationary objects are preventable crashes. The key to preventing such accidents is to recognize the hazards that can lead to a collision with a stationary object and take appropriate defensive measures. Read the information below and ask yourself if there are actions you can take to improve your driving skills and reduce the risk of hitting a stationary object.
RECOGNIZE THE HAZARDS
ENVIRONMENT

Accidents involving stationary objects often occur in parking lots at truck stops, rest areas, and customer facilities. Bridges, low-hanging wires, overhangs, and signs are additional hazards if the driver is not unaware of the height of his/her vehicle. Likewise, adverse weather affects visibility and a driver's ability to identify hazards.
EQUIPMENT

Large trucks have several blind spots; these spots make it difficult to manage the space around the truck even at low speeds. Also, dirty, damaged, or inoperable mirrors hinder a driver's ability to identify hazards.
PERSONAL BEHAVIORS

A critical factor in accidents involving stationary objects is driver behavior. Distractions inside the cab and out are a risk any time the vehicle is in motion. Likewise, failing to inspect the area around the truck (and above) for stationary objects in the vehicle's path can lead to accidents.
KNOW THE DEFENSE
BEFORE PARKING

Slow down when entering a parking area; a crash negates all haste.

Avoid parking near stationary objects, if possible.

Focus on driving and avoid distractions, like talking on a cell phone, even at low speeds.

Try to time deliveries during non-peak traffic times.

Know the height of your truck and be mindful of low-hanging signs, overhangs, etc.
BEFORE BACKING

Remember GOAL; get out and look behind the truck to ensure it is clear of hazards.

Use a spotter and traffic control, especially if backing across traffic lanes.

Use your mirrors and do not rely solely on backing cameras.

Roll down the windows and turn off all devices to limit noise distractions.
BEFORE DRIVING AWAY

Walk around the truck to identify potential hazards.

Plan your exit route to ensure there are no hazards in your path.

Set out orange cones to protect your exit route if a wide turn is needed.
WHILE DRIVING

Know the height of your tractor and trailer.

When route planning, do not rely solely on GPS for route restrictions – use your eyes and sound judgment to make a safe decision, even if it means finding an alternate route.
Note: These lists are not intended to be all-inclusive
This material is intended to be a broad overview of the subject matter and is provided for informational purposes only. Great West Casualty Company does not provide legal advice to its insureds or other parties, nor does it advise insureds or other parties on employment-related issues, therefore the subject matter is not intended to serve as legal or employment advice for any issue(s) that may arise in the operations of its insureds or other parties. Legal advice should always be sought from legal counsel. Great West Casualty Company shall have neither liability nor responsibility to any person or entity with respect to any loss, action, or inaction alleged to be caused directly or indirectly as a result of the information contained herein.Reprinted with permission from Great West Casualty Company.