Roadside inspections create operational delays that may result in financial losses. Every time a truck is stopped for an inspection, this delay may impact key performance indicators tracked by the motor carriers, such as on-time delivery, out-of-service rates, and customer satisfaction, to name a few.
To help manage this risk, try reducing the number of roadside inspections your company must take part in. One way to achieve this is by building a history of clean inspections.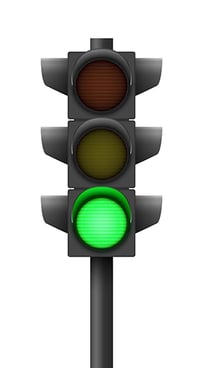 The Federal Motor Carrier Safety Administration (FMCSA) utilizes the Inspection Selection System (ISS) to prioritize carriers by assigning inspection recommendations and inspection values based, in part, on a motor carrier's Behavior Analysis and Safety Improvement Categories' (BASICs) percentile values from the FMCSA's Safety Measurement System (SMS).
After a carrier's percentile ranking is determined in each BASIC, the motor carrier is placed in a safety event group. An ISS-CSA algorithm then prioritizes each motor carrier by assigning an inspection recommendation and value. The three inspection recommendation values in ISS are Inspect (red), Optional (yellow), and Pass (green).
Motor carriers with a score of 75-100 are the top priority and given the Inspect recommendation. A score of 50-74 is assigned an inspection recommendation of Optional, while those carriers with a value of 1-49 are assigned a Pass designation, meaning an inspection is not warranted.
The importance of the ISS score is critical to operational efficiency. Keeping your ISS score in the green, or Pass without an inspection, not only can reduce the risk of increased roadside inspections, but also sends a strong message to your fleet, customers, and job seekers that you run a top-notch operation.
HERE ARE SOME SUGGESTIONS THAT MAY HELP YOU IMPROVE YOUR ISS SCORE.
Monitor SMS for preventable equipment violations.

Train drivers on proper pre-trip vehicle inspections.

Install a mirror check station at the terminal.

Monitor each driver's hours-of-service availability and shut them down when they are out of hours.

Review ISS and SMS scores regularly with the management team and operations staff
CALL TO ACTION
Monitor ISS and SMS scores and take corrective action.

Train drivers on proper vehicle inspections.

Ensure equipment issues are resolved immediately.
The information in this article is provided as a courtesy of Great West Casualty Company and is part of the Value-Driven® Company program. Value-Driven Company was created to help educate and inform insureds so they can make better decisions, build a culture that values safety, and manage risk more effectively.
Note: These lists are not intended to be all-inclusive

This material is intended to be a broad overview of the subject matter and is provided for informational purposes only. Joe Morten & Son, Inc. does not provide legal advice to its insureds or other parties, nor does it advise insureds or other parties on employment-related issues, therefore the subject matter is not intended to serve as legal or employment advice for any issue(s) that may arise in the operations of its insureds or other parties. Legal advice should always be sought from legal counsel. Joe Morten & Son, Inc. shall have neither liability nor responsibility to any person or entity with respect to any loss, action, or inaction alleged to be caused directly or indirectly as a result of the information contained herein. Reprinted with permission from Great West Casualty Company.